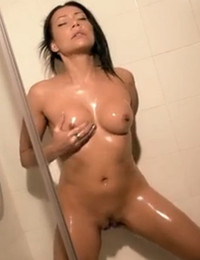 Beautiful pornstar Lara Tinelli takes an oil shower and masturbates with her purple vibrator. This video should come with a warning that it will make you jizz whether you are ready or not!
Lara stands in the shower totally naked and she completely covered her body in oil so that it is dripping wet. She then uses her fingers on her clit and fucks her shaved pussy with her purple dildo. The camera gets up close so you get to see the action in detail and it is shot in HD for perfect clarity.
It should be a law that all girls have to shower like this as when they are covered in oil their body looks so hot and if you have ever fucked a girl covered in oil you will know how good it makes their pussy feel.
Click Here to Watch the Video at PornTube